Sunday June 19th 2016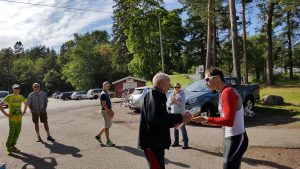 On Saturday 18th of June, it was sunny and nice summer weather, which Vestfold is known for. The weather changed while the swim was going on and a strong, cold wind came from the north. The rain poured down and everyone who was out cycling got extremely cold. With only +12 oC in the air and whipping rain »from Siberia» with strong northerly winds, the far too lightly clad triathletes all had something extra to fight against.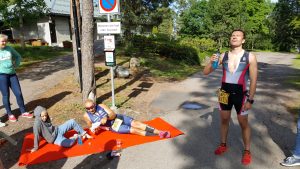 Between the happy participants, old and new friendships blossomed over the weekend during the different phases of the race.
The first two who came across the finish line, Magne Karsen and Jens Laurits Nielsen, showed great sporting spirit. The time was 5 PM and the event had been going on for 12 hours. Meanwhile in T2 came Mathieu Groussard after having cycled a bit astray. By the food station in Kodal he should have taken a right towards Åsrum but drove straight toward Sandefjord. That gave him approximately 20 km extra, but our man from France did not give up.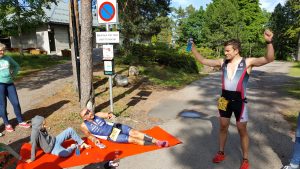 After a further 7 hours and 16 minutes the podium was filled up, and the event was over for now.
Vi Sees … Full Distance triathlon in 2016 had 9 registered triathletes from 4 nationalities (Norway, the United States, France and Poland). 8 participants started the race, 5 did not finish and 3 completed.
The promoter extended the maximum time, because of the adverse weather conditions.